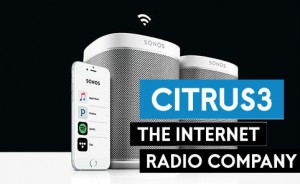 Have you ever wanted to listen to your Citrus3 radio station via your Sonos device?
It's really easy to set up and your stream will be listed with Sonos which will bring a lot of listeners your way.
You will need just need to have your stream URL.  If you do not have your stream URL please contact us via info@citrus3.com and we will provide it to you.
Simply open the Sonos App on your Windows or Mac computer:
Click on "Manage" then click "Add Radio Station."
Add your streaming URL of your radio station.  If you do not know it, please contact us and we will provide it for you.
From the Sonos music menu, go to Radio by TuneIn then My Radio Stations where the newly added station will be listed.
That's it!  Your radio can now be found via all Sonos devices.
For further support or more information please visit us via our website Citrus3.com