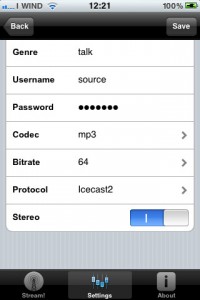 We have just discovered a fantastic app that could come in really handy for your talk radio stations.  Before you get too excited it won't allow you to stream music from your iPhone, however with that being said its a fantastic tool for reporters carrying out interviews and news reports on the go.  You can take it with you, connect to one of our servers and broadcast live from wherever you are with a click of a button.
The main benefit of course is that as far as weight goes it won't let you down.  No more do you have to rely on carrying your laptop around with you or inviting your guest to the studio to carry out a chat show or interview.
Simply go to Starbucks, launch the app and start your radio show on the go.  Or even better for sports radio stations.  You can now become a live commentator directly from any game.
The app is available for the iPhone from the Apple app store by carrying out a search for "Papaya" and is not available in all stores around the world just yet.  It supports Shoutcast and Icecast formats up to any bit rate that your radio station or your mobile phone network will allow.
For premium internet radio hosting that works great with Papaya visit Citrus3.com